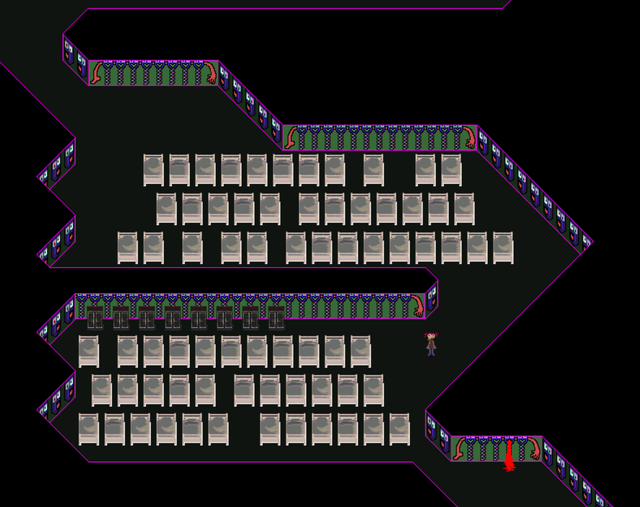 八熱地獄に付随する十六の小地獄があるとし、また各々の種別を挙げる。八熱地獄の4面に4門があり、門外に各4つの小地獄があり、これを合して十六小地獄(十六遊増地獄、四門地獄、副地獄)という。八熱地獄と合せば百三十六地獄となる。小地獄は中央の八熱地獄の亡者(衆生)が迷い込む他、中央の地獄に落ちる条件の中でもさらに細かい条件に合ったものが落ち、例えば殺生をしたものが落ちる「等活地獄」の小地獄の場合、
「鳥や鹿を殺した者」「生前に勝手気ままに殺生をした者」などといった条件を備えた小地獄があり、その内容も各地獄によって異なる。
There is small hell equipped with conditions, such as "those who killed the bird and the deer", and "those etc. who destroyed life freely willfully to the lifetime", and the contents also change with every place prisons.
The guilotine world can be reached by entering the bleeding wall, and stabbing the Toriningen before opening the third closet from the left teleports you to mini hell. Madotsuki's Ghost can be found here.
---
十六小地獄の別名の一つ「四門地獄」の場合、小地獄は四種類しかなく、各門一つにつき全種類並んでおり、それが四方にあって4×4の十六個であるという。その内容は、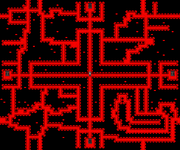 膝まで没するような熱灰の中を歩かされる「トウ(火+唐)煨増(とういぞう)」
糞尿と泥の河に沈められ、そこに巣食う虫たちに喰われる「屍糞増(しふんぞう)」
無数の剣が刃を立てて並ぶ道・刀刃路、刃の葉を持つ林・剣葉林、無数の剣が生えた木を登り降りさせられる・鉄刺林、これらを備えた「鋒刃増(ほうじんぞう)」
沸騰した灰水の河に落とされる「烈河増(れっかぞう)」
といわれている。
八寒地獄にもそれぞれ十六小地獄があると言われているが、具体的な内容は伝わっていない。
殺生、盗み、邪淫、飲酒、妄語、邪見、犯持戒人、父母・阿羅漢(聖者)殺害。
Killing, stealing, Invisible, drinking, Mogo, Jaken, Jikai human prisoners, killing arhat-parents (saint).EditEdit
地獄の最下層に位置する。
Located in the lowest layer of hell.
Edit