The Eyeball World is one of the 12 original locations accessible directly from The Nexus.
It is a large, openly-looping and disturbing place - filled with lots of violent and gory imagery. There are eyeballs and severed heads strewn all about, disembodied legs hop across the floor and twitching arms that grasp the air.
It is one of the proponents in the game that support the theory that Madotsuki has a violent and possibly sociopathic personality- the dismembered limbs and gouged out eyeballs could relate to her possible bloodthirsty intentions.
The scrolling parallax background is one of the many examples of Aztec imagery in the game.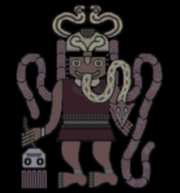 Points of Interest
Edit
Connections
Edit